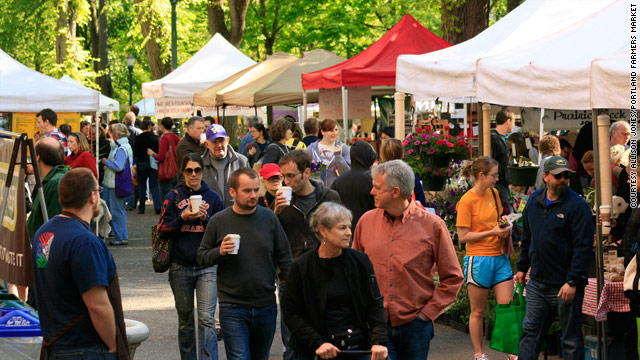 Hey guys... The lovely Mona from the Portland Farmers' Market just let me know that a photo of mine was featured on CNN.com's America's Best Farmers' Markets! I love it when PFM gets the credit it so very much deserves (even if they just talk about our mushrooms...) and it doesn't hurt to see my name along the side of a photo on CNN: the fine print on the right side there says "Courtesy Allison Jones/Portland Farmers' Market"... The article focuses on the appeal of farmers' markets for travelers, and I certainly agree with some of their picks. The Portland Farmers' Market (presumably the PSU incarnation) joins the Columbia City Farmers Market in Seattle, Santa Monica Farmers' Market, Alemany Farmers' Market and Ferry Plaza Farmers Market in San Fransisco, Green City Market in Chicago, the The Union Square Greenmarket in NYC, Santa Fe Farmers Market (with its ungodly variety of chili peppers for sale), Dupont Circle Freshfarm Market in D.C., and the Flint Farmers' Market in Flint, Michigan.
Someday I hope to travel and take pictures (and tastes) of all of the markets on the list, but until then, I'm happy with my hometown favorite. The farmers' market at Portland State University on Saturdays is far and away one of the best things to do in Portland, whether you're a visitor or a long-time resident. When you're only in town for a weekend, it's like a little microcosm of the region, because you get a glimpse of the local food scene, the seasonal changes, the popular music and fashion, the attitude... and when you live in Portland, the farmers' market can become a social hub, a grocery store, and, at least for me, a home away from home and a launching pad for a career. Check out the full article here:
America's Best Farmers' Markets
, and be sure to check out the farmers' market next time you're in Portland. I'll show you around!